About Angel City Big Band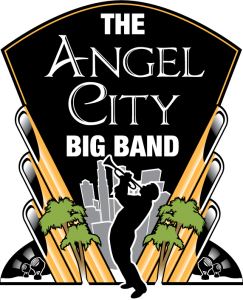 The Angel City Big Band was founded in 2010 by baritone saxophone musician Tim Miller. Tim's father, a gifted jazz trumpeter and band leader encouraged Tim to perform from a young age with his big band. Herm left all of his precious jazz charts with his son. With this amazing legacy, Tim took the opportunity to establish the Angel City Big Band.
You can find the Angel City Big Band performing at the American Legion Hall on Fallbrook Avenue in Woodland Hills on the 2nd Saturday of each month. Dinner and dancing while the Angel City Big Band provides the music is a great way to spend a Saturday evening!
Upcoming Angel City Events
No Events
Monthly Calendar
Sun
Mon
Tue
Wed
Thu
Fri
Sat
Dan Davis – Summer Nights of Big Band Jazz at the Madrid
Have Yourself a Merry Little Christmas – Bonnie Bowden
Indian Summer featuring Bonnie Bowden
Mas Que Nada featuring Bonnie Bowden
The Angel City Buzz is....
New CD: Bonnie and the Angel City Big Band "Living the Canary Life" The International Review of Music by Norton Write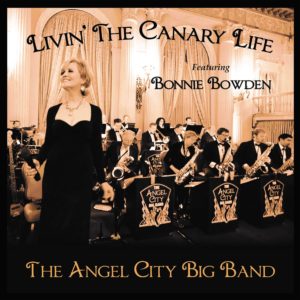 A singing and swinging delight is songstress Bonnie Bowden's reunion with her pals The Angel City Big Band in their CD "Living the Canary Life." Ms. Bowden and her orchestral cohorts are famous for keeping the torch burning for the great dance bands of the 1940's. With this CD you can either sit back and finger=pop your enjoyment or kick up your heels and dance to jazz takes on classics like Irving Berlin's "How Deep is the Ocean," Jerome Kern's "All the Things You Are" and Duke Ellington's "Do Nothin' Til You Hear From Me."
High Spirits and wry humor fuel this CD especially in its title song, "Livin' the Canary Life," which Ms. Bowden renders beautifully with up-front-and-personal understanding. Cab Calloway, the revered big band leader of the 1940's, coined the term "canary' to mean a female singer in a jazz orchestra singing or "chirping" nightly as she and the band endure the rigors of traversing America. Ms. Bowden having toured the world with Sergio Mendes' bossa nova combos, knows the ordeals of travelling from one city to another to perform. There's good reason for her to honestly lament in this song's lyric that the grind is enough to make a canary "hate her agent' for booking those one-night stands in the boondocks of Hoboken and Riverdate ... Arthur Hamilton's insightful lyric states "a wedding band" would be preferable -- but until then, this canary will be "singin' on the band stand, til the band is gone" ... And in the song's finale, Ms. Bowden musically hames the iconic canaries Anita O'Day, Peggy Lee, Lena Horne and those super talented female big band singers of which she is surely one of the best.
Lyricist Arthur Hamilton and Ms. Bowden again make a great twosome with his lyric on "Cry Me a River." This song has been a tour-de-force for Bowden and in this CD's rendition The Angel City Big Band provides a bluesy arrangement just right for Bowden's rendition of romance gone awry.
Broadway gets its just due when Ms. Bowden spreads her wings on Broadway songwriter Frank Wilhorne's "Til You Come Back To Me." Bassist Dustin Morgan kicks the band into thunderous gear, RW Enoch's tenor sax soars, and in matching the excitement of both, Bowden goes stratospheric at the finish.
Lest' The Angel City Big Band be thought of as only honoring the swing tunes of yesteryear, their take on modern jazz great John Coltrane's composition "Giant Steps" is a gas. Rolling Stone Magazine sited Trane's "Giant Steps" as one of the 500 Greatest Albums of All Time. The Angel City Big Band does its own thing with the number from percussionist Jack Cook's thunderous opening in an arrangement that often evokes the Woody Herman Band and its sax section playing "Four Brothers." Very fine listening.
It's ideal when a CD has a beginning, middle and end. "Livin' the Canary Life - featuring Bonnie Bowden" is always progressing from the outset, and its finale is perfect. The composer/lyricist is the revered Cole Porter -- the arranger is Sammy Nestico from the Count Basie era -- and the tune is "From This Moment On." Ms. Bowden joyously chirps You and I babe / We'll be ridin' high babe / Every care is gone / From this moment on.
Indeed -- ride high babe and enjoy this CD!
Rifftides: An Angel City Christmas www.artsjournal.com/rifftides by Doug Ransey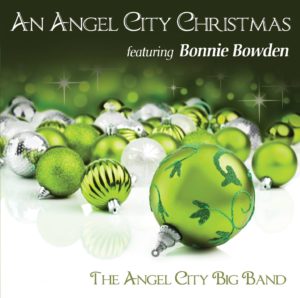 If you're looking for a collection of Christmas songs well sung and played in nicely crafted arrangements, this one meets your criterion. The arrangers include Tom Kubis, John LaBarbera and Ralph Carmichael, the singer is the unfailingly cheerful and gratifyingly in-tune Bowden, and the songs are all proven classics. If for nothing more than Bowden's astonishing high-register unison vocalese with the trumpets on "Let it Snow," this would be one of my new seasonal favorites. Over the years, I have grown tired of "Have Yourself a Merry Little Christmas" and "The Christmas Song," Nat Cole and Mel Tormé notwithstanding. Bowden and the Angel City crew of skilled studio craftsmen restored them for me. She does a great job with the verse to "What are you doing New Year's Eve."
Contact Angel City Big Band